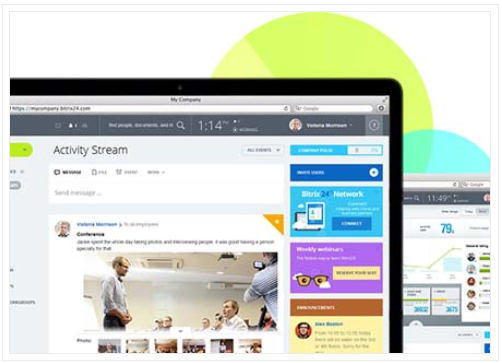 It's Just A Tap Away
No PC? No problem. You can always access your files from any mobile device that has Bitrix24 app installed. All popular document formats (XLS, XLSX, DOC, DOCX, PPT, PPTX) are supported, so you can read resumes, view sales reports or study presentations.
Finding files and folders are very easy – just start typing the name in the search box and you'll see the results instantly.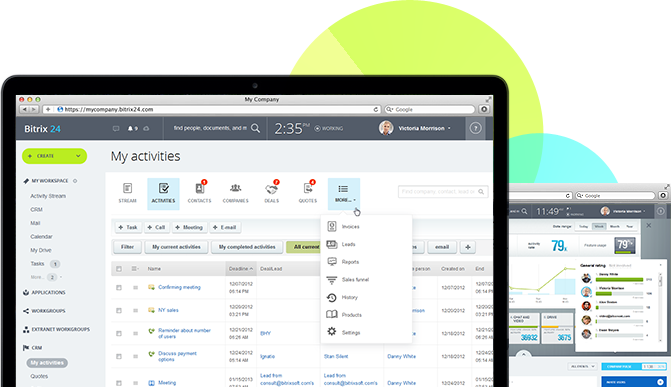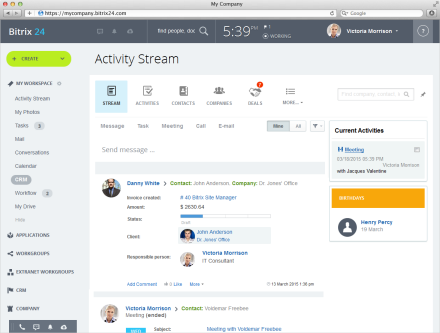 Managing Interaction
The CRM contains instruments to create reports, import/export contacts, carry out analysis, and to perform segmentation of the target audience as precisely as needed. Incoming contacts or leads can be divided among sales managers, marketing campaigns can be analyzed, and access permission to any deal or lead can be varied depending on its status or other parameters.
The interface in the CRM is convenient and intuitive, and it includes a CRM-only activity stream. This stream is a universal interface that enables actions (notes, emails, tasks, meetings and phone calls) to be initiated on any object or objects in the CRM from a single point.

Reports and Sales Funnel
A quick look at the sales funnel gives an immediate account of transactions in progress and their respective stages. Stages can be added easily and each one appears in a separate line and different color. The length of the line corresponds to the total sum of the deals at that stage, and a table with the numeric values is displayed below the funnel.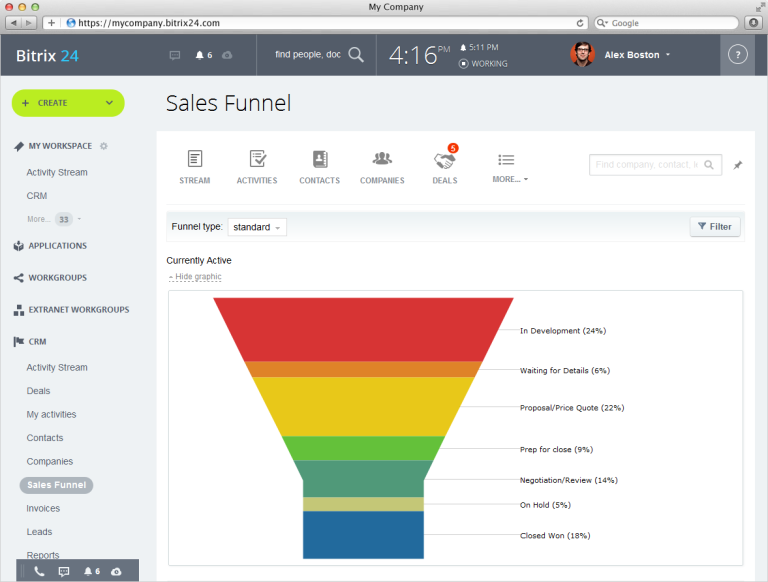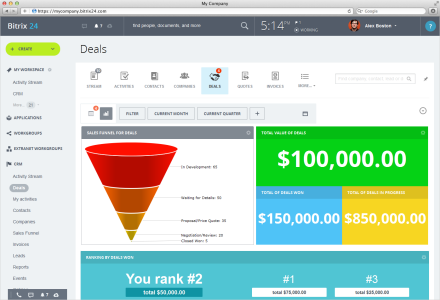 CRM Dashboards
Dashboards in CRM are instant snapshots of the most important sales activities. Each agent can see how many deals they've won, how many clients haven't been invoiced yet, agent's rating in comparison with other sales team members and so on. Dashboards are currently available for deals, leads & invoices and are in the process of being added to all other CRM entities (Contacts, Companies).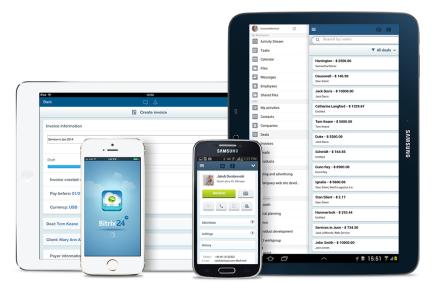 Invoices inside the CRM
The CRM in Bitrix24 allows you to create personalized invoices instantly. Client data from the Bitrix24 CRM are automatically inserted into an invoice – just select the appropriate Contact or Lead.
Products and services that are included in an invoice can be selected from existing items, or you can create new ones on the fly. When done, you can send the invoice directly from your CRM to the client's email address, save the invoice as a PDF file, and even print it out right from your web browser!

Mobile CRM
The CRM is accessible in the Mobile App so you can find the information you need while on the move. Bitrix24 Mobile CRM allows creation or editing of CRM entries and invoices directly from a mobile device. You can use the product catalog, browse client records, and even make calls from your Mobile CRM!