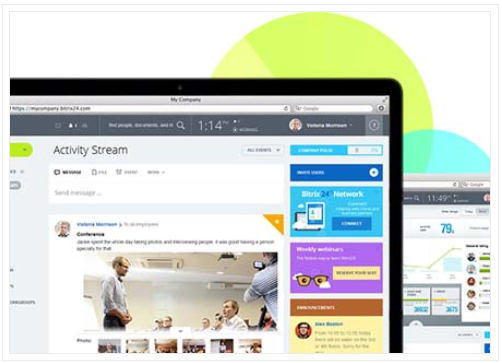 Mobile application
Bitrix24's mobile application functions as a mobile intranet portal, mobile CRM and a mobile HRMS system. Once you install the Bitrix24 app on your smartphone or tablet, you'll be able to work on the road, in a bar, or any place where there's an internet connection available. Both iOS and Android devices are supported.

Stay connected
If you work away from the office a lot, you are sure to appreciate the fact that Bitrix24 tools are available on smartphones and tablets as well as PCs. You can view the Activity Steam, make new posts, and like or comment on existing ones right from your phone. Want to post a new photo? Easy!
Bitrix24 mobile app can synchronize contact information for your co-workers from the employee directory with your smartphone contacts. You will receive push-notifications any time your attention is required. Your tasks and scheduled events are also accessible from the mobile device. And if your internet connection is spotty – that's no problem, because Bitrix24 mobile app has offline work mode.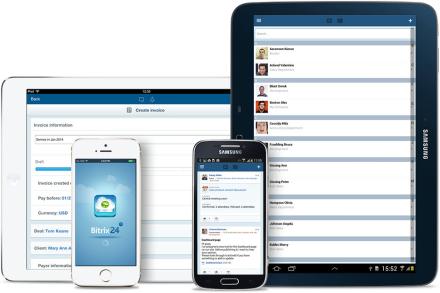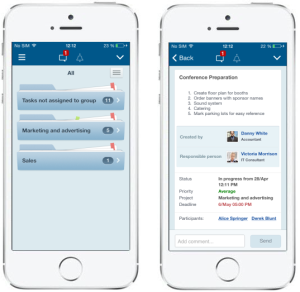 Mobile tasks
You can create new tasks and work with existing ones right from your favorite mobile device. If you have a long list of tasks, you can use filters to sort the ones that require your immediate attention. Liking, delegating, deferring, approving, completing and pausing tasks as well as viewing documents attached to tasks can be done from your mobile.
Tasks are separated according to the project group with which they are associated. New, overdue, and tasks awaiting your reaction can be accessed with one tap.

Mobile documents
The files you store in Bitrix24 are automatically available on your mobile device. You can access all company, group and shared files that you have permission rights for. You can open XLS, XLSX, DOC, DOCX, PPT, and PPTX documents directly on your mobile device to read a resume or view a presentation.
Built-in search helps you find the right document even if your portal stores tens of thousands of files.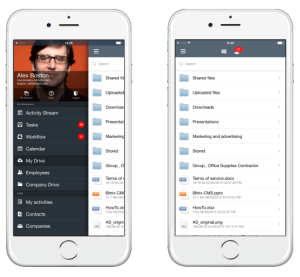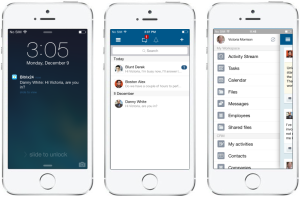 Real Time Communications
When you write a message to your colleagues who are outside the office, they will get an instant push-notification on their phones. Push notifications work even when the app is closed, thanks to proprietary Bitrix Cloud Messaging technology.
The company employee directory and employee profiles are easily accessed from the mobile app. You can call or send an email to your co-workers from your smartphone, if you don't want to use instant messages.

Mobile video
Video calls and video conferencing up to 4 people are available to Bitrix24 mobile users. HD quality streaming in 16:9 aspect ratio is supported but requires broadband access. If your connection speed is slower, you can opt for audio calls. Just like other mobile options, all of these features are free of charge and come without any limits.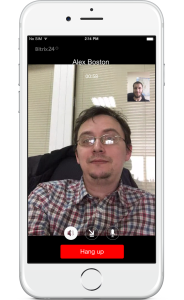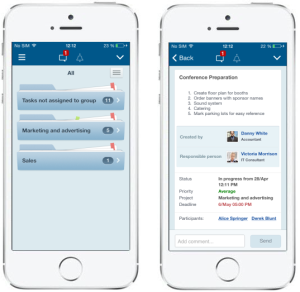 Mobile Intranet
This app is your free mobile intranet and private social network. The activity stream on your smartphone is no different from your computer – you can read existing posts, create new ones, participate in discussions and 'like' messages or comments.
Any time mandatory announcement, task or meeting invitation that goes through the activity stream will be visible on your mobile phone or tablet. It doesn't matter how far you are from your office, because you can interact with your colleagues as if you were right there.

Mobile Workflows
Working with your workflows on the go is easy with Bitrix24 mobile apps. You can approve or deny requests, check on the statuses of the workflows you started, add comments and do much more. If you were looking for a free mobile business process management solution, Bitrix24 is sure to impress you.