Mobile Application Development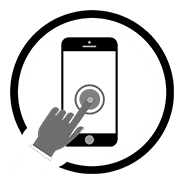 Going mobile will help your business streamline operations, bring value to the demanding modern customers, and help you tackle all types of Data. Our extensive expertise in mobile app development will help you succeed with your corporate growth strategy.
Crestline application development services understand the SMB space and are customized based on your budget, specific needs and requirements. We have the experience to maximize value by suggesting improvements with advanced technologies that can help reduce cost and make systems more efficient.
Our mobile app design services are integrated with product strategy in mind. Development includes concepting and the ideation from wireframes to user flow keeping UI and UX part of the delivery strategy.
We build cross-platform apps that run on both iOS and Android from a single code base using from an open-source mobile app SDK for building high-fidelity apps. This enables us to deliver high-performance applications that feel natural on different platforms and embrace differences in typography, icons, scrolling behaviour, and more.